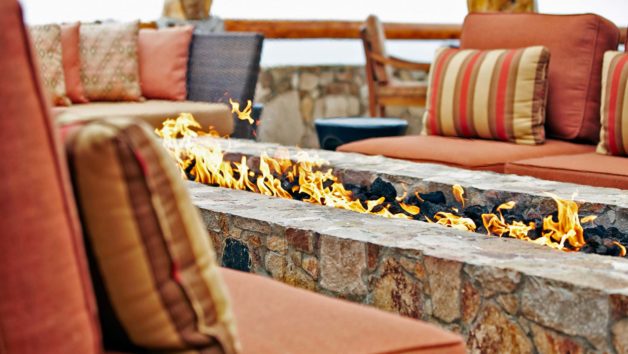 Trinette Reed/Getty Images

Originally published on Realtor.com
You already know that you can score a sweet deal by buying a home in early fall—after all, you procrastinated waited just long enough to miss the summer rush. But if your green thumb is itching for action, unless you're living in the Sun Belt, you'll probably be disappointed once the big chill descends.
But don't despair! There are a number of outdoor projects that can still be carried out when the mercury drops. In fact, fall and winter can be an ideal time to tackle some of these critical items on your to-do list.
Here are eight cold-weather projects that promise to rejuvenate your outdoor space come spring.
1. Clear out the flower beds
Some experiments fail. Relax: There's no shame in your dead tulips or your shriveled succulents garden. Now that winter's arriving, pick up your spade and give yourself a clean slate.
Take a long look at your yard, and decide which landscaping elements worked superbly last year—hey, your rose bush was tremendous—and which didn't work well. Removing plants is easier when they're in hibernation, so pull up the roots and start dreaming: What will next year's experiment be?
2. Get plantingPlanting flower bulbs in autumn
OlgaPonomarenko/iStock
With your flower beds cleared out, you might think you have nothing but time to kill until spring planting season arrives. But you don't have to wait that long. Fall is actually a great time for planting; with some care, a little autumnal attention can mean a beautiful spring garden.
"Many common bulbs, like tulips and daffodils, will bloom great in spring when planted in the fall," says Chris Johnson, the owner of True Value Hardware in Navarre, MN.
Pick your bulbs carefully. The best ones "will be firm to the touch," Johnson says. A few inches of mulch on top will keep them safe all winter.
3. Make your final cut
You might think the length of your grass doesn't matter heading into winter. Who's going to see it under a blanket of frost and snow, anyway?
But it's about more than just aesthetics. The health of your yard depends on your giving it one last good cut before chilly temps and frosty weather settle in.
"Longer grass can be matted down by heavy snow, which can cause 'snow mold' and impact air flow," says Fain Dalton, the owner of The Grounds Guys of Germantown in Collierville, TN. Snow mold is a nasty fungus that grows during the winter and mars your lawn when the snow melts, leaving matted, discolored grass.
Dalton recommends trimming lawns to 2 inches. Make sure to rake up fall leaves, too, which can also harbor the ugly fungi.
If you forgot and start panicking come spring, don't worry. Snow mold doesn't mean your grass is ruined—it just might take a little bit longer to go green.
4. Spray your weedsSpray to slay.
Onfokus/iStock
Wouldn't it be nice if your lawn emerged verdant and weedless (halle-freaking-lujah!) in the spring? We think so, too. That's why you should start murdering that unwanted greenery now.
How? As it turns out, your grass is soaking up any nutrients it can find in preparation for the long, cold winter—and so are the weeds.
"Don't wait until spring to spray for weeds like dandelions or creeping Charlie," says Johnson. "If you spray them, they'll not only soak up nutrients, but also the weed killer."
As a bonus, because it's getting chillier, you won't have to worry so much about visitors or pets coming through or accidentally consuming the herbicide.
5. Aerate your yard
If want your outdoor space to look lush and green once the snow melts, Johnson says, aerating your lawn is a great first step.
"It will get air, nutrients, and water into the roots and help produce a stronger lawn," he says.
Aerators are cheap and can be found at your favorite home improvement stores. You can even buy specialized sandals if you'd prefer to stomp your way to a perfect lawn.
Once your lawn is aerated, give it something to munch on before the first frost. Purchase a late-season fertilizer, which will help the grass retain vital nutrients during the winter.
6. Trim your perennials
Snails and slugs spend all autumn chowing down on your beloved perennials—but you can stop them in their tracks by cutting back the perennials before the season gets going.
Dalton recommends trimming the foliage to the ground.
"It sends energy to the roots for next spring and results in healthier spring beds," he says. And it keeps your yard looking orderly during the winter, as opposed to overgrown and very, very sad.
7. Prep your gardening supplies
It might be too chilly to garden, but you can still get ready for when temperatures rise again. Hopefully, you've disconnected and drained your hoses at the season's end to prevent them from freezing—but why not also get your sharpest tools in shearing shape?
Fix squeaky screws, and de-rust and sharpen any blades (and replace if needed) in order to save yourself time come spring. Your local gardening or hardware store might offer a tool sharpening service, but this is also a job you can tackle yourself with a sharpening stone or grinding wheel.
8. Build a fire pitIf you build it, they will come.
Nancy Ross/iStock
Most winter yard to-do's won't pay off until spring, when the warm weather gives you a good look at the fruits of your hard labor.
But here's a fun project that promises to make your backyard usable—even on the chilliest day: Build yourself the biggest, best fire pit.
Whether you like the look of stone or want to build a brick basin, there are DIYs for any style of fire pit you can imagine. (Just make sure to check local regulations first. Some municipalities ban fire pits or have restrictions on where they can be built.) For those on a modest budget, you can still build a kick-butt fire pit.
Originally published on Realtor.com