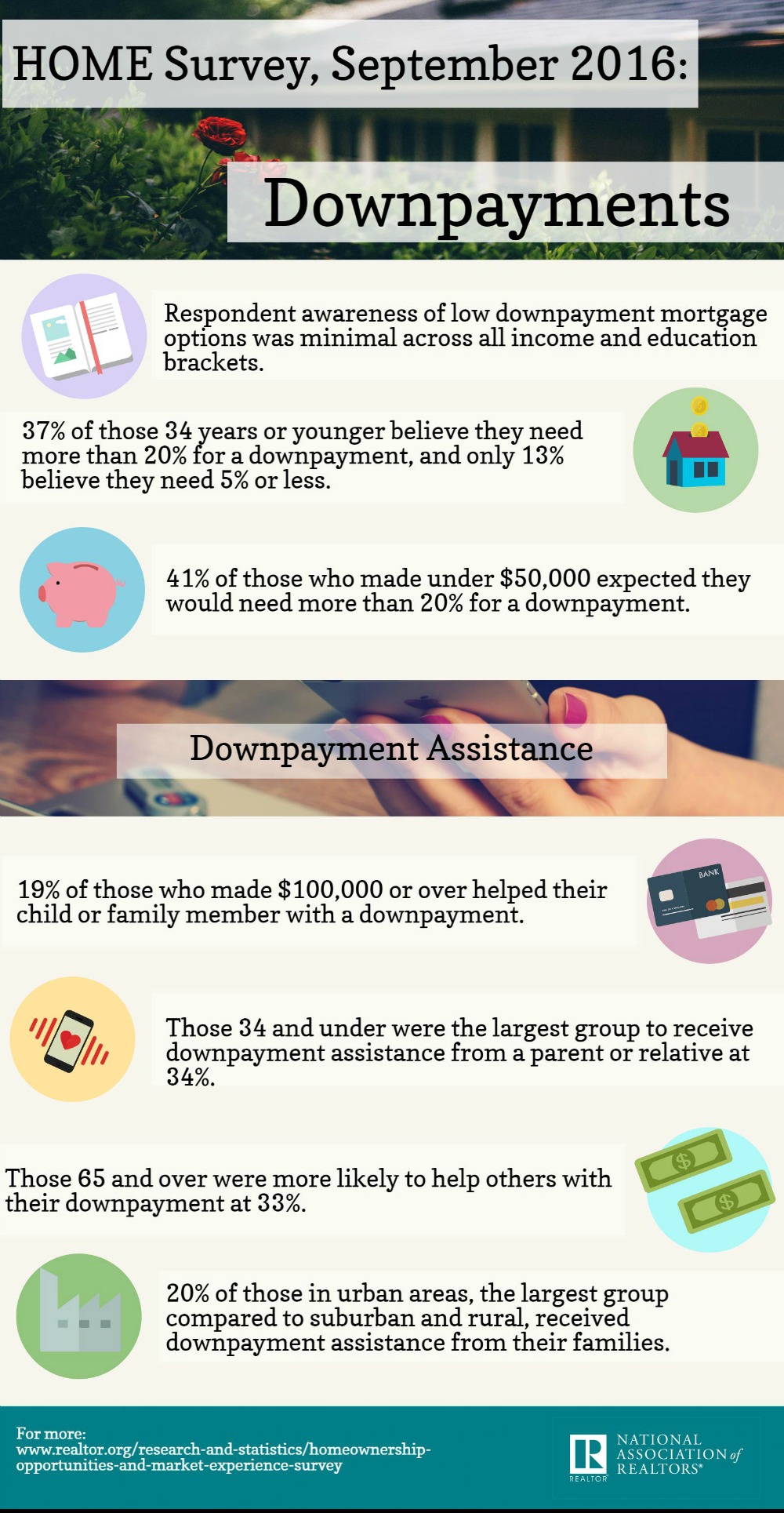 DAILY REAL ESTATE NEWS | WEDNESDAY, SEPTEMBER 14, 2016
Consumers across all ages, income brackets, and education levels lack awareness about low-down-payment mortgage options, according to the National Association of REALTORS®' latest Housing Opportunities and Market Experience (HOME) survey of more than 2,700 Americans. Many are hesitant about buying a home right now, particularly young people, partially because they believe they must have a 20 percent down payment to purchase.
The Low-Down on Down Payments
Where Low Down Payment Loans Are Easiest
What's an Average Down Payment?
HUD Investigates Down Payment Aid Programs
However, the average median down payment for a first-time buyer has been 5 percent throughout the 35-year history of NAR's Profile of Home Buyers and Sellers, the longest-running survey of national housing data. Yet fewer than 20 percent of consumers in the HOME survey believed a down payment of 10 percent or less would be enough to purchase. Respondents ages 65 and older (43 percent) as well as those younger than 35 (37 percent) were the most likely to believe they need more than 20 percent for a down payment.
"It's possible some of the hesitation about buying right now among young adults is from them not realizing there are mortgage financing options available that do not require a 20 percent down payment, which would be north of $100,000 in some expensive areas in the country," says NAR Chief Economist Lawrence Yun.
As home prices and rents continue to rise, consumers are struggling to save for a down payment. Nineteen percent of current home owners report that they received down payment assistance from a parent or relative. Home owners ages 34 and younger, as well as those living in the Northeast and in urban areas, are the most likely to say they received such financial assistance.
"Creditworthy prospective buyers should know that many lenders now offer safe, sustainable loans with as little as 3 percent down, and obtaining a mortgage isn't as difficult as it was in the immediate years after the downturn," says NAR President Tom Salomone.
The desire for home ownership remains strong. The share of consumers who say now is a good time to buy remains at a solid majority: 78 percent of home owners and 60 percent of renters, according to the HOME survey. But 82 percent of home owners and 62 percent of renters said it was a good time to buy in March, which indicates that consumer confidence in housing may be softening as home prices rise and a shortage of inventory persists.
"This summer's historically low mortgage rates injected some additional demand into the market, but the dearth of homes for sale continues to keep a lid on sales but not prices," says Yun. "Given the stiff competition and limited homes available at the lower end of the market, it's not surprising at all that those under the age of 34 and in the West are the least confident about it being a good time to buy. Very affordable mortgage rates and strong job gains among young adults should be translating to a higher rate of home ownership. It's not, and as a result, sales to first-time buyers remain stuck below a third of all sales."
By REALTOR® Magazine Daily News
Originally published @ http://realtormag.realtor.org/daily-news/2016/09/1...